Petlab Co. Clear Eyes Chews is designed to remedy your dog's overactive tear duct and clear discolouration around his/ her eyes. This review of Petlab Co. Clear Eyes Chews is given to help if you're considering buying this for your dog. 
Table of Contents
What Petlab Co. Clear Eye Chews are about?

 
What Petlab Co. Clear Eyes Chews are made of?

 
Do

 

Petlab Co. Clear Eyes Chews work?

 
How should you use Petlab Co. Clear Eyes Chews?

 
How long does a container of Petlab Co. Clear Eyes Chews last?

 
What are the side effects/downsides to using this supplement?

 
Is Petlab Co. Clear Eyes Chews recommended to dog owners?

 
What other options can you try apart from this supplement?

 
Is Petlab Co. Clear Eyes Chew suitable for human consumption?

 
What happens if your dog refuses to take this supplement?

 
What Petlab Co. Clear Eye Chews are about?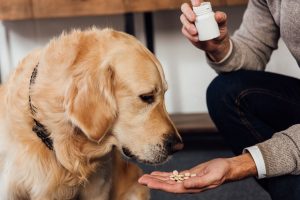 These Clear Eyes Chews are made in the USA, and specifically produced for dogs to help remove tear stains from under their eyes. If your dog has overactive tear ducts, the tears and mucus could discolour his/her fur, making under the eyes look dirty. Cleaning these stains aren't easy so the best way to handle it is by prevention especially if you own a light coloured dog. 
This supplement is said to have other benefits asides removing tear stains from dogs. 
 Which includes; 
Supporting your dog's immune system.

 
Creating comfort and ease in cleaning your dog's tear stains – you don't need to struggle with your dog, all you need to do is feed them the delicious chew.

 
Helping to maintain normal eye function and eye health.

 
What Petlab Co. Clear Eyes Chews are made of? 
These supplements are made of; Honey, Cranberry Extract, Vitamin C, Cinnamon,  Marshmallow Root Powder, Calendula, Alpha-Linolenic Acid, Safflower oil and Eyebright (Euphrasia Officinalis) as the active ingredients. 
 Additional ingredients include Cane Molasses, Coconut Glycerin, Dried Brewer's Yeast, Dried Pork Liver, Dried Whey, L-Ascorbyl- 2-Polyphosphate, Linolenic Acid, Mixed Tocopherols. Natural Hickory Smoke Flavor, Pork Gelatine. Salmon Oil, Soy Lecithin, Tabioca Starch as the inactive ingredients. 
 Three of the active ingredients (vitamin C, marshmallow root and Eyebright herb extract) are particularly known for solving eye concerns and overproduction of mucus that lead to tear stains. 
 These ingredients are safe for your dog, however, care needs to be taken when administering Vitamin C because it's unsafe if your dog has had oxalate stones in the past…or if your dog is a breed prone to oxalate stones. 
 So, you may want to check with your vet before using this supplement and avoid using this supplement for dog breeds like; 
Schnauzer

 

Lhasa apso

 

Yorkshire terrier

 
Miniature poodle

 

Shih Tzu

 

Bichon Frise

 
Do
Petlab Co. Clear Eyes Chews work?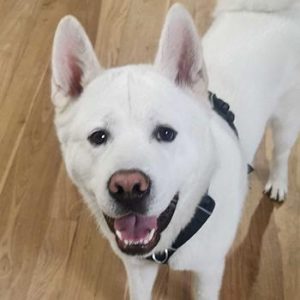 This product comes in a sealed capped container, white with 30 capsules inside. If used accordingly, you should notice some good improvement in the first three weeks…and within 4-5 months, you may no longer have to wipe your dog's eyes unless you out when it's windy or dusty.  
 So this supplement works if you're patient enough to continue for several months. However, when you start seeing results, you're required to continue using this supplement to keep seeing these results. It's a great buy if you can afford to continue after your first buy.  
How Should you use Petlab Co. Clear Eyes Chews?
This product is ideal for a dog that weighs about 18lbs, one chew per day is appropriate as specified by manufacturers. This means the number of chews to be given depends on the weight of your dog; 
 So, dogs under 20lbs are required to be fed 1 chew per day while dogs 21-45lbs, 2 chews per day; 45-80lbs, 3 chews per day; and 80lb+, 4 chews per day. 
 Simply follow the manufacturer's specifications and you're good to go. 
How Long does a Container of Petlab Co. Clear Eyes Chews last?
If your dog weighs less than 20lbs, and you feed one chew per day, a container lasts for 30 days. So if your dog requires up to 3 chews per day, a container will last only 10days…it all depends on administering according to your dog's weight. 
Is it worth the price?
You can get one container of this supplement on this website for only $38.55.
If your dog requires more than one chew daily, you should consider making your calculations to know if you'll be comfortable to continue buying this supplement. 
What are the Side effects or Downsides to using
Petlab Co. Clear Eyes Chews
It's always advisable to check with your vet first before usage because there have been some reports where dog owners complained that these supplements made their dogs sick. Many others didn't notice any adverse effects…in fact, they've rather been great news that dogs love them. 
Although they have quite a strong smell, which may be exciting for dogs because they are always happy to have their daily chew. Remember, if your dog has had oxalate stones in the past, avoid using this supplement. Also, remember to check from the active ingredients to know if this supplement is good for your dog breed. 
Is Petlab Co. Clear Eyes Chews Recommended to Dog Owners?
So long as this supplement is compatible with your dog's breed and your dog has never had oxalate stones problems in the past, then yes, I will recommend this product to help clear up tear stains from under your dog's eyes. 
But if you'll find it difficult to keep up the usage, or if you don't think it's worth the price then it's advisable to find other options to avoid wasting your money. Remember, you have to be patient for the results to show. Good luck! 
What other Options Can you Try Apart from this Supplement?
You can try these remedies that don't Require Supplements. 
Give your dog bottled or filtered water instead of tap water. Because unfiltered water may have a higher amount of iron and minerals which can increase the intensity of tear stains on your dog's fur.

 
Dog's tear stains could be the result of a food allergy. You should check your dog's diet and change if necessary.

 
Trim the hair around your dog's eyes to avoid it from touching the surface of his/her eyes and causing irritation that leads to excess mucus creation. 

 
You may want to consider switching your dog's plastic bowl to a metal bowl. This could help your dog see significant improvement in mucus production.

 
Is Petlab Co. Clear Eyes Chew suitable for Human Consumption?
No, this is definitely not recommended. It's only suitable for dogs according to the manufacturer's specifications. Kindly use these supplements for dogs alone.