Knuckling in dogs is a condition where the top of a dog's paw drags along the ground as it walks. In some cases, the dog looks like it is trying to walk on the top of its paw, or its feet get wobbly and may cross over as it walks.
This problem has several causes like weakness, sore paws, radial nerve damage, intervertebral disc disease, carpal flexural deformity, fibrocartilaginous embolism, degenerative myelopathy, tumor, and carpal hyperextension. It is also normal for a pup who just came out of surgery to experience knuckling.
Sometimes the factors responsible for Knuckling in dogs are reversible ,while in some cases they are not. However, at all times you want to keep your pup comfortable and healthy. It is especially important to help your pooch manage this problem as best as possible and explore treatment options available.
Thankfully, there are a wide array of treatment options available on the market for Knuckling in dogs. In this article we will be exploring some of the best ones we could find.
The products we will be reviewing can be temporary or permanent tools and has multiple applications. They can used to help correct gait and improve hind paw placement. The can also help your pooch manage incurable ailments that cause knuckling.
Anti-Knuckling Devices are Effective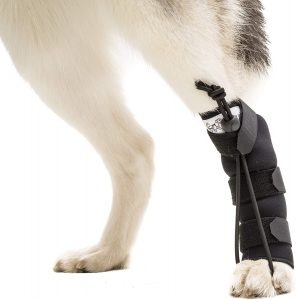 Here are the reasons why they will help your doggie's knuckling problem.
It provides training support for dogs who drag their back paws.
Stimulates a dog between its toes and causes him to pick the foot up higher.
Designed to enhance proprioception.
Perfect for rehabilitative use for pets recovering from surgery.
Comfortable, and adjustable, and may be customized according to your pet's condition.
Anti-Knuckling devices have recorded great success with helping various dog breeds. Many dog parents have also shared their pleasant experiences with these devices. It is important to note that these devices do not cure the condition that your pet has, they can only make it more manageable.
It is also important to seek the opinion of your veterinarian to see if an Anti-Knuckling device will be ideal for your dog's condition. This is because anti-knuckling devices are not recommended in all cases.
Here are the top 5 anti-knuckling devices for dogs (in no particular order) according to reviews from dog owners.
K9 Carts' Rear Support Dog Wheelchair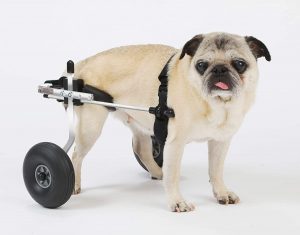 K9 Carts' Rear Support Dog Wheelchair is an actual wheelchair made to support your dog's rear limbs, especially after surgery. It suitable for cases where knuckling is caused by irreversible factors such as a bad accident that may cause your pooch to be unable to move its rear legs properly.
It is well designed and approved by the Certified United States Veterinarians since 1961. This wheelchair enhances your pet's quality of life by enabling your pet to walk and run.
It slows down the progression of almost all kinds of spinal diseases and conditions that cause knuckling. This includes degenerative myelopathy which is incurable.
The design is of a perfectly balanced wheelchair that helps to relieve stress on your dog's front legs & spine. It is also recommended for other conditions like; ruptured disc, spinal trauma, hip dysplasia, arthritis, old age, rear amputees, and post-surgical rehab for disc, knee, and hip surgery.
This doggie wheelchair is fully adjustable for your dog's back legs and the beautiful straps come in 3 different varieties (black, blue, and pink). One of these costs between $259.00 – $749.00 on the K9 carts website. The price depends on the size of the wheelchair.
Canine Mobility Anti-Knuckling Device – Hind Leg Lift Harness for Dogs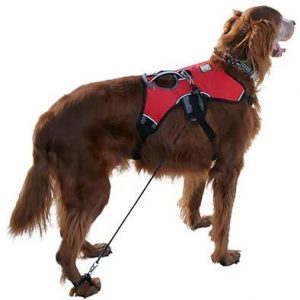 Canine Mobility Anti-Knuckling Device is a canine rehabilitation tool that brings the affected hind leg forward while simultaneously lifting the toes. It attaches at one end to a dog harness (required for proper measurement) and to the affected paw at the other.
It is often sold as singles or in pairs because not all dogs need two. This device is an ideal therapy tool for ailments like; degenerative myelopathy, degenerative disc disease, fibrocartilaginous embolism or hind limb weakness or any other condition resulting in knuckling or dragging of your dog's hind legs.
This Anti-Knuckling Device is not meant to be a cure for hind limb weakness. Instead, its designed to reduces or eliminate knuckling problems in your dog all-together. Additionally, resistance from the shock cord help to promote the strengthening of atrophied or weakened muscles.
The device comes in several sizes to properly fit your dog. You will find a simple size guide when purchasing. This guide helps you to measure your dog so you can buy one that fits properly.
This product is simple to use, inexpensive, and works perfectly. Dog parents whose pups suffer severe arthritis, stroke and other illnesses which resulted in knuckling have confirmed the effectiveness of this anti-knuckling device. Dog owners who bought this product generally agree that their dogs and their dogs walk pretty well with this device.  One of these costs only $69.00 across various online pet stores.
Ortocanis Anti- knuckling Sling for Dogs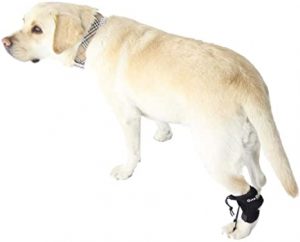 Ortocanis Anti- knuckling Sling for Dogs is a foot sling that was specifically developed to assist dogs who drag their back paws when walking due to a sciatic nerve problem. The sling prevents knuckling by supporting the two middle toes of your pooch's paws. It is attached via a tightened elastic adjustable cord with a strap wrapped around the hock. If your dog still has the ability to bear weight on the limb (i.e. hock, stifle, and hip extension) it is considered a perfect candidate for the foot sling.
This is due to the fact that your dog has a diminished conscious proprioception or loss of digital extensor function that's causing its toe dragging and knuckling. So, the tension generated by the device encourages your dog to walk properly and prevents it from dragging the dorsal part of its foot. This device is suitable for conditions like, degenerative myelopathy, spinal trauma, intervertebral disk disease, neoplasia, and fibrocartilaginous embolus.
The foot sling has two different configurations for daily use or for rehabilitation. It comes in sizes ranging from XXSmall – Large which ensures that you're able to find one that is perfect for your pup.
To choose the correct size, measure the circumference (perimeter) above your dog's hock, and use the size guide provided to you at the point of purchase. This is an amazingly effective and affordable device that is sold for only $89.90 across online pet stores.
Walkin' Pet Splint for Dogs – Canine Rear Foot Splint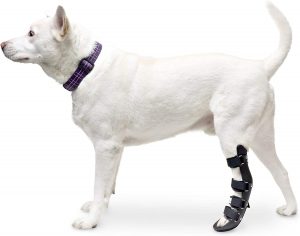 Walkin' Pet Splint for Dogs provides leg comfort and supports your dog needs. It is a great product for old and injured dogs as well as dogs who experience knuckling for one reason or another. This brace provides joint support for your pet and help with injuries and conditions that may decrease mobility and cause knuckling.
It is reusable and reduces the cost of bandaging and casting. Also, dog parents are happy about how durable, lightweight, and waterproof this foot brace is. The exterior is made of hard, waterproof plastic with a soft foam padding on the inside for comfort.
This product helps to keep your dog's leg in a normal walking position. By design it extends above the hock and completely under the paw ensuring that your pet's leg is fully supported. There is no "right" or "left" leg or paw as the splints can be used for either the right or left leg/paw.
The sizes range from XXSmall – XLarge, so you can easily choose the best one for your pup using the size guide. Each of these braces cost between $48.99 – $85.28 on Amazon (prices differ according to the sizes)
Walkin' Pet Splint for Dogs – Dog Bootie Style Foot Splint for  Arthritis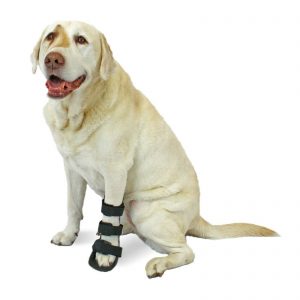 Walkin' Pet Splint for Dogs is a designed to provide joint support for your dog. It helps with injuries and conditions that may cause weakness in the limb which can result in knuckling. Several dog owners agree that this is an easy and cost-effective way to treat injuries. It does so by offering support and comfort to weakened or unstable areas due to fractures, sprains, or ailments. Its ideal for dogs who suffer from arthritis.
This dogs' joint protector is shorter than a standard size leg splint and it supports the lower part of the limb. The Bootie splint extends under your dog's paw to stabilize it while helping to keep your dog's leg in a normal walking position. Its designed this way to prevent knuckling or nerve damage.
It is durable, comfortable, lightweight and waterproof! Finding the perfect fit for your pooch is easy because this product is available in a range of sizes to fit your pet from XSmall to XLarge.
Also, it can be worn on either the front or rear foot. One of these braces cost between $48.29 – $71.51 depending on the size you are choosing for your canine friend.
We have just explored 5 Anti-Knuckling devices which are the best on the market. They are designed to make your dog's life just a little bit easier. Be assured that your pooch will be excited to enjoy it's new active life, because it's built for it!