As a proud parent of a German Shepard named Bobby, finding the best care products to care for my boy is undebated. After noticing that my dog had contracted some sort of eye infection that made his eyes inflamed, watery and red. Before getting MicrocynAH Pink Eye Spray, I took him to the vet where I got a prescription for an antibiotic eye drop. This eye drop made my dog salivate, and it stung badly because from the very first drop, he screamed. The worst part was, the vet said I had to do this twice a day for more than a week. 
 Even though I wanted them to get better, I had to discontinue the eye drop because it was difficult to use and he hated it. So, I hopped online in search of another solution, and found Mana Pro® MicrocynAH Pink Eye Spray. 
 It had tons of positive reviews from dog owners. So I'm sharing my genuine experience just in case you're considering treating your dog's eyes with MicrocynAH Pink Eye Spray. 
Table of Contents:
What is MicrocynAH Pink Eye Spray?

 
Where can you buy MicrocynAH Pink Eye Spray?

 
How many sprays per bottle?

 
Is this product for dogs alone?

 
What are the downsides/side effects of MicrocynAH Pink Eye Spray?

 
Is this product the best quality on the market?

 
How easy is it to use this product?

 
Is there an alternative to using MicrocynAH Pink Eye Spray?

 
Would you recommend MicrocynAH Pink Eye Spray?

 
What is MicrocynAH Pink Eye Spray?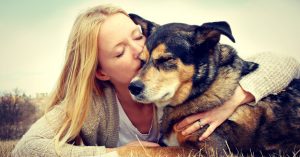 MicrocynAH Pink Eye Spray is veterinarian recommended, FDA approved and produced by Manna Pro® in the U.S.A. It consists of; Hypochlorous Acid (0.009%), Sodium Hypochlorite (0.001%) as the active ingredients as well as water, Sodium Phosphate, Sodium Chloride as inactive ingredients. 
As a non-toxic, non-irritating and non-sensitizing product, it neither contains alcohol, steroids, antibiotics nor Tea tree oils – which means it's safe if your dog licks it. It is described as an animal healthcare product formulated with the original and patented Microcyn Technology – The only animal healthcare product formulated with the original patented Microcyn®. Microcyn®-based products are formulated from an electrically charged oxychlorine compound of small molecules. The Microcyn® Technology hypochlorous acid is similar to the natural hypochlorous compound produced by the human body's immune system upon demand to eradicate foreign pathogens in the body – this explains why this product doesn't need to contain antibiotics or steroids to be effective. 
 It is 100% biocompatible and safe to use on animals of all ages, species and skin types. This product is said to remedy a range of eye defects in animals like; (allergic conjunctivitis), redness, irritation, discharge and drainage in animals 
Is MicrocynAH Effective?

Purchased in a sealed 16 OZ, 21cm long (including sprayer) spray bottle and used it according to the manufacturer's specifications. First using a clean warm towel to wipe away excess matter that had collected in the corners of my dog's eyes. Then adjusting the nozzle of the spray bottle, I flushed my dog's eyes gently with MicrocynAH Pink Eye Spray – this product is a clear liquid. 
 This time, he didn't wince…so I can conclude that it doesn't sting. I applied this about 2 times daily to his cornea without rinsing and noticed visible results from the first day. In 5 days, his eyes had completely cleared.    
 So, yeah, this product works and I'm 100% satisfied with the result. 
Where can you buy MicrocynAH Pink Eye Spray?
 Finding MicrocynAH Pink Eye Spray offline was a breeze, all I needed to do was check my local pet pharmacy to pick up a bottle for $27. You can also check your local pet pharmacy or buy online from Mana Pro® website, Amazon, ebay, Walmart, or other online stores. 
Is it worth the Price?
 Truth is, I had no problem with purchasing this product for $27 at my local pet pharmacy. Plus, it was way cheaper than buying the prescription eye drop. 
 And honestly, $27 is a very fair price for the bottle size and product effectiveness. So if it isn't worth more than your dear dog's sight, then it's a great buy! 
 Although you can find it at a slightly higher price online, I advise you to find an online store where it's sold at the lowest possible price. 
How Many Sprays Per Bottle?
Judging by the 16 OZ bottle, one container of MicrocynAH Pink Eye Spray should have ≥ 500 sprays. 
Is this Product for Dogs Only?
 Well, according to the product description,  MicrocynAH Pink Eye Spray is said to be suitable for all animals no matter the age or species. But I've only used this product on my dog, a German Shepherd. 
 Although many other dog owners and farm animal keepers have found MicrocynAH Pink Eye Spray very helpful. 
 So, it's your choice to try it out! ? 
What are the Downsides or side effects of MicrocynAH Pink Eye Spray?
 Testing has found the gel and liquid products produced by Microcyn® technology to be non-irritating, non-sensitizing and non-toxic. Microcyn®-based liquid products have been found to have no oral toxicity, cause no ocular irritation and are non-genotoxic.  
Also, there are no known drug interactions or contraindications with Microcyn®-based products. So, even though this product contains Sodium Hypochlorite which could cause a stinging effect.  
Manna Pro® has stated that the amounts included in MicrocynAH Pink Eye Spray is not enough to have a stinging effect. Throughout use, I didn't notice any side effects. Neither did I observe any staining because the spray is a clear liquid. However, I regularly cleaned my dog's eyes to remove accumulated mucus. 
Is this Product the best Quality on the Market?
 For a fact, I can't say yes or no! Because I had only tried one prescribed eye drop before using MicrocynAH Pink Eye Spray. But what I can say is, it was easier and more comfortable to use, and worked faster for my dog compared to the prescribed eye drop. 
How easy is it to use this Product?
 Way easier than using the eye drops, all I had to do was clean my dog's eyes, and spray in each cornea to flush the eyes. There was no discomfort noticed from usage. 
Is there an Alternative to using MicrocynAH Pink Eye Spray?
 There are other alternatives like; getting prescription antibiotics from your vet, Vetericyn Pink Eye Spray, Vetericyn Plus Antimicrobial Pet Ophthalmic gel, and Theracyn Pink Eye Spray. However, these other solutions may cause stinging and discomfort. The MicrocynAH Pink Eye Spray showed great promise and it's the only one I found that doesn't sting. 
Would you Recommend MicrocynAH Pink Eye Spray?
 After using this product and getting desired results, I would 100% recommend this product to dog owners. Right now, Bobby is completely healthy…but in the future, if there's anything wrong with his eyes, I'm grabbing a bottle of MicrocynAH Pink Eye Spray without question. Although it's important to check with your veterinarian before using any medication on your dog.