Tear staining in dogs is a result of many varying factors. Sick dogs and even those that are poorly groomed may end up with unsightly tear staining on their once beautiful coats. Staining can be found on the eye region, around the mouth and on the feet of dogs. Grooming your dog is therefore pretty important in maintaining the cosmetic health of your dog. The food your dog consumes should be one of the first things to look into at the first appearance of Tear Stains. If you notice tear staining in your dog, giving your pet healthier foods is one of the methods to control the problem. Let us look at the best dog food for tear stains, its properties and how it contributes to clearing dog tear stains.
Top Dog Foods and Supplements for Tear Stains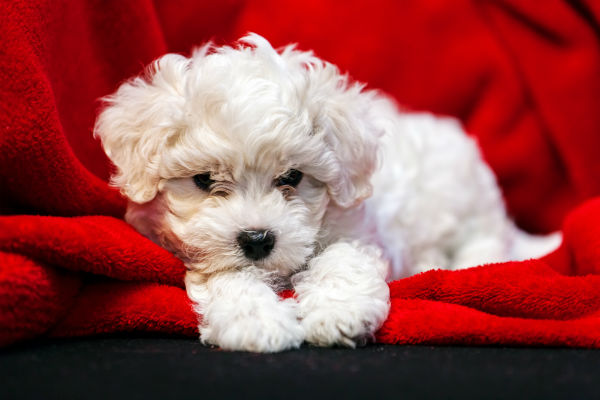 Prevent dog tear staining by giving your dog the best dog food. Your dog's vet is a source of great advice as it relates to dietary guidelines on how to nourish your dog in a healthy way. There are various factors to include the age of the dog, health status of the dog and the activity levels of your pet dog. The food you feed to your dog should be wholesome and natural where possible.
There are dog foods that are low in protein and fat content. They are based on complex carbohydrates that are metabolized with minimal toxin production. These are generally the best dog food for tear stains. As a part of your tear stain removal effort, during the period of treatment, avoid giving the dog treats or limit them to a minimum and only give them when necessary to do so. Without further ado lets delve into our op recommendations for Dod food recommendations for Tear Stain removal.
Forza10 Sensitive Tear Stain Eye Care Dog Food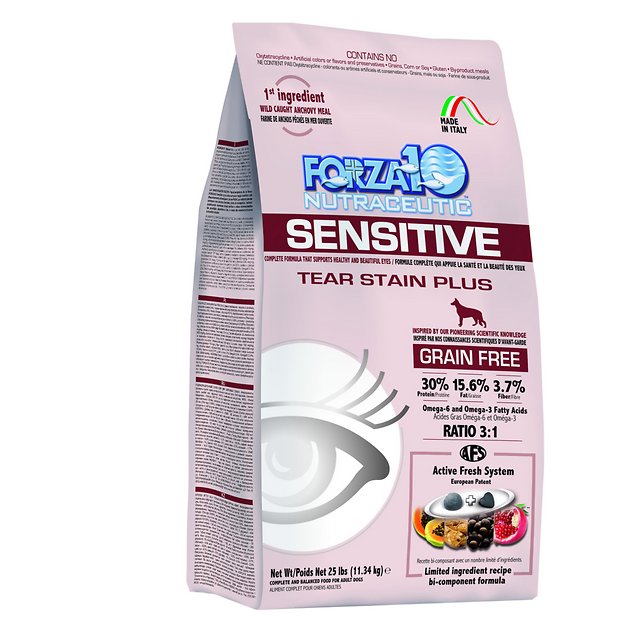 Dog food comes in various forms including powder, ground flour and soft chews. Forza10 Sensitive Tear Stain Eye Care Dog Food is a specially formulated dog food that comes in form of flour. The composition of this dog food for tear stain ensures that there is reduction in tear staining. You should not give your dog other foods when you are using Forza10 Sensitive Tear Stain Eye Care Dog Food to control tear staining in your dog.
Forza10 Sensitive Tear Stain Eye Care Dog Food is grain-free. It is great for adult dogs needing a well-rounded food formula for their best nutrition.
NaturVet Tear Stain Supplement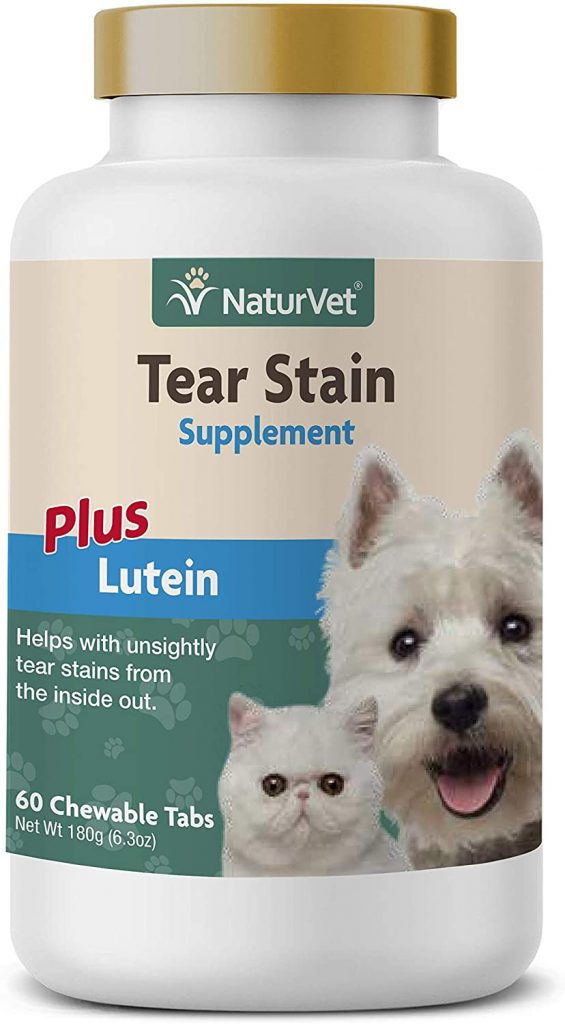 NaturVet Tear stain supplement is one of the best dog supplements for Tear Stain removal on the market today. It comes in form of powder, tablets and soft chews. The powder package size is 200 grams. Soft chews come in a container holding 120 or 70 chews. The tablet form of NaturVet tear stain supplement has 60 tablets in each package.
This food supplement works to both prevent and remove existing dog tear stains. It also gives a boost to the immune system of your dog. Did I mention that this supplement is tasty to dogs so they eat it without much of a fuss. NaturVet puts their tear stain supplement in re-sealable plastic cups for long-term freshness. The dog food is free of wheat and antibiotics.
Petpost Tear Stain Remover Soft Chews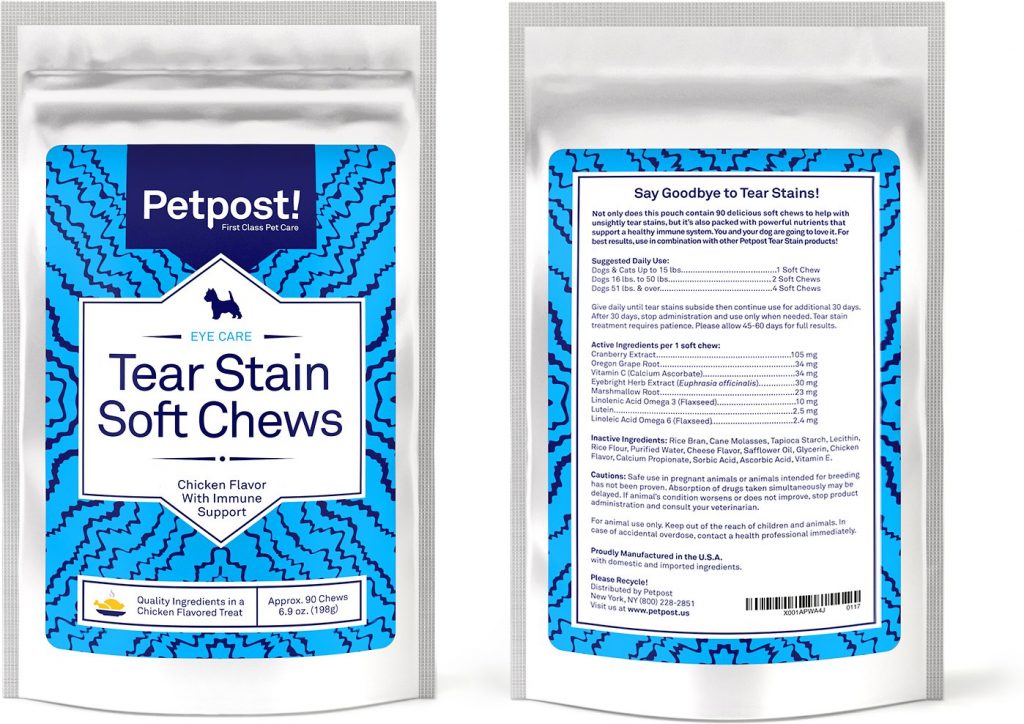 Giving your dog best dog food or supplements for Tear Stains should be easy. The ideal product should be effective, easy to administer and it should be tasty. Petpost's Soft chews are exactly that. They are very easy to administer simply because Petpost tear stain remover soft chews are delicious to dogs. They are also easy to use in correct amounts so that you do not end up over-feeding your dog. And did I mention that it works? Many users have noticed a significant difference in the appearance of their dog's coats after using for six weeks.
Petpost soft chews are also made of organic ingredients and its manufactured in the USA. You can be assured that your dog's health isn't being adversely affected by feeding it this supplement. Petpost Tear stain remover soft chews come in a pack of 90 chews. They should be fed every day to the affected dog until the condition is resolved.
Veterinary Formula Clinical Care Soft Chews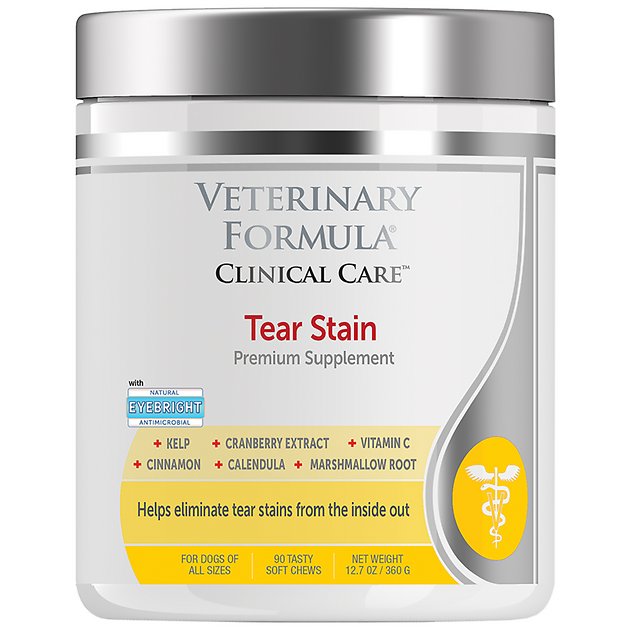 Veterinary Formula Clinical Care soft chews are a premium dog supplement for removing tear stains. They come in a package of 90 chews in a plastic container. This tear stain supplement is nutritious and is manufactured by a reputable dog food company. It is one of the best dog supplements avaiable on the market for tear stains removal. You may use the soft chews as snacks for your dog.
A special formulation has allowed Veterinary Formula Clinical Care soft chews to be used on both pups and adult dogs. Ingredients used to make this dog food for tear stains include sea kelp, marshmallow root, calendula and cranberry. They help in maintaintaing normal eye function, promote ocular health and reduce inflammation. These Veterinary Formula soft chews are made in the USA.
Causes of Dog Tear Stains
Many factors determine whether your dog is affected by Tear Stains. The color of your dog's coat may not readily show staining if it is dark colored. But that doesn't mean it isn't there Dogs with white or light color hair show staining easily. Other factors are diet, drinking water, infections and congenital defects. The exact cause of dog tear staining is tear deposits called porphyrins on your dog's coat Porphyrins are also found in saliva and in sweat. This explains staining around the mouth and paws. The production and depositing of porphyrins on your dog's fur is affected by a variety of factors to include your dog's diet.
Dietary Causes of Dog Tear Staining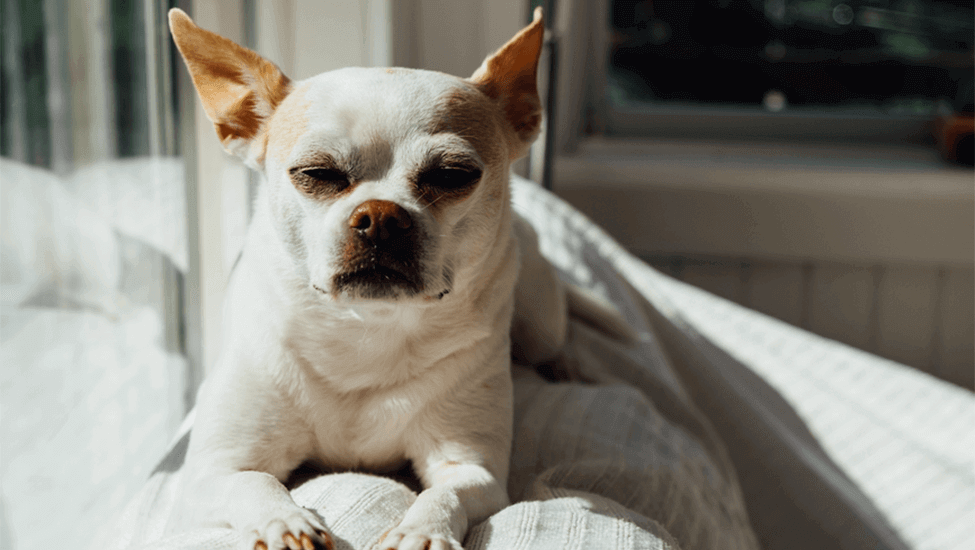 The build-up of toxins in your dog's body is a leading cause of tear staining. These toxins are produced and eliminated naturally from your dog's body. Excessive production or poor elimination from the body are not normal and will lead to tear staining. Important aspects of your dog's food that have an effect on toxin production and eventual tear staining in your dog are;
Poor quality – giving your dog food with unsuitable ingredients is a leading cause of tear staining. The ingredients may also harm the long-term health outlook of your dog. Unsuitable ingredients include additives and fortifying agents in dog food.
High Fat and Protein intake – in the event that your dog eats food that is rich in proteins and fats, tear staining may occur soon after. Proteins and fats produce more porphyrins than carbohydrates.
Intolerance and Food allergies – Some dogs have intolerance to foods of varying types. Allergies and intolerances to such foods cause inflammation and cell damage. They also trigger production of more toxins in your dog's body as the body tries to eliminate the food from the body of the dog.
Overfeeding – giving too much food to your dog is not right. An overfed dog, even with high quality food, develops many health problems and shows more tear staining.
Non-food ingredients in food or in contact with the dog may be a contributor to dog tear staining. These include food colors and non-food additives in dog food. The containers you use to store dog food and to feed your dog also matters. Tear staining due to the use of Plastic dog food bowls can be resolved when the plastic bowl is replaced with safe materials.
Conclusion
People keep dogs for various reasons. Regardless of your Dog's breed, light-colored hair often have red-brownish stains on their fur. Tear stains are not a dog breed problem. They are caused by the build up and clearing of toxins in the body of your dog. You are able to clear the stains from the hairs of your dog through many different practices and methods. Changes in the diet you feed your dog including the water the dog drinks can help stop tear staining. Use the above detailed best dog food for tear stain tips to keep your pet dog looking beautiful all the time.