I have a friend who owns a 7-year-old 110 lbs. German Shepherd named Conan. Since I knew Conan, I came to know him as a dog who refuses to sleep on anything but the cold tile in the house. Even after purchasing a cozy dog bed, he refused to use the bed and eventually, his elbows started accumulating fluid-like substance. This didn't seem painful because Conan was always very active and after speaking to my friend, she let me understand that she wanted to observe and see if the swelling would resolve on its own. But eventually, his elbow began to look unsightly when the swelling grew larger, making the area look like a huge ball of fluid was underneath his elbow skin. She went to her vet who checked and declared Conan's condition as a hygroma.
NeoAlly Dog Elbow Brace Protector Pads for Canine is one of the most effective products for Hygroma in dogs. You can buy it on Amazon.
An hygroma simply is a fluid-filled swelling caused by repeated trauma. These swelling are non-painful and typically occur over a pressure point or bony prominence such as the outside elbow.
This happens most times when your dog doesn't stop lying on hard surfaces such as cement or hardwood floors. When she was told that Conan's condition could be handled at home…
She tried to make him use his bed and when he still wouldn't, she tried wrapping the hygroma with cotton and some pieces of cloth, but it never seemed to stay on.
Because I understand my friend's struggle and also have a soft spot for dogs, I hopped online to find the best elbow pads for dogs, and according to reviews and customer experiences.
I'm sharing them to serve as a guide to dog parents who are caught up in a situation similar to my friend's experience.
Here are the best Elbow Pads for Hygroma in Dogs I discovered during my Research.
NeoAlly Dog Elbow Brace Protector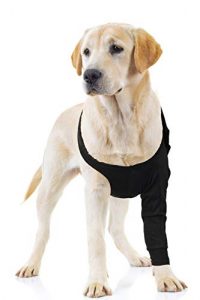 NeoAlly Dog Elbow Brace Protector came up on a search and although I thought it was a little expensive, I checked out the reviews and saw that it works.
Although a few dog parents agree that the first time it was put on their dogs, their dogs hated it but after some time, they got used to it and even seemed to like it.
NeoAlly Dog Elbow Brace has been designed to provide elbow joint support and improve mobility in dogs with elbow arthritis, hygroma, dysplasia, and shoulder dislocation. It also protects dogs from elbow calluses, pressure sores and helps in wound healing.
So you see, it's 100% multipurpose! ?
The beautiful design is patent-pending and it is based on natural dog body anatomy which helps it adapt perfectly to the animal and guarantees a secure and comfortable fit.
It functions optimally whether your pooch is standing, walking, running, jumping, sitting, or lying down.
The soft, breathable fabric has a compression that gives your dog much-needed support especially during an extended period of use, while the elastic strap and snug-fit design provides flexibility and plenty of freedom of movement.
Dog owners have recorded good results with this product within just 10 days of use.
This product has been recommended severally from dog parents to fog parents who are dealing with their dog's hygroma.
Yuyuso Dog Elbow Protector Fleece Sleeves for Dogs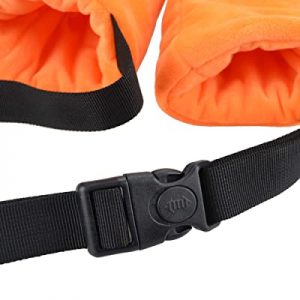 These elbow pads work great for dogs with hygroma and calloused elbows. With the Sleeves hanging loosely on the legs, they provide extra comfort when your pup lays down.
It also has an adjustable buckle strap which allows you to easily secure the elbow pads in a suitable place behind your dog's shoulder. The back band should be positioned behind shoulder blades for the best fitting.
The cotton filling is designed to provide added padding when your pooch lays on hard surfaces and it also keeps your dog from chewing the area.
These comfortable sleeves fit around the elbow to maintain skin integrity in cases of hygroma while helping to prevent injury as it relieves pressure to the area.
You can find one on Amazon for $29.26 which is a very comfortable price for most doggie parents.
It is important to carefully check for your dog's right size before you make a purchase.
Ortocanis Dog Elbow Protector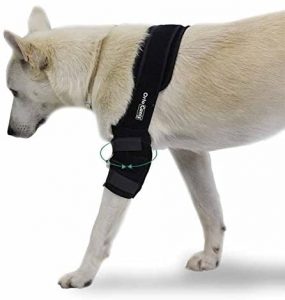 The original Ortocanis elbow brace for dogs is suitable to be used to treat hygroma on dogs. You can find one of this selling for $42.90 on Amazon. This brace is created to improve mobility in dogs with elbow problems.
It has protective pads which are there to reduce pressure and pain to improve mobility due to the heat and support generated by the neoprene.
And the extra-thick patch protects the articulation from impacts and hard surfaces.
Well, apart from hygromas these elbow pads can be used as treatment or support for other concerns like;
After surgery and with conservative treatments
Instability and joint hypermobility
When selecting the ideal size for your pooch, here are simple instructions to help you do it right:
With a sewing tape, or a tape measure and string, measure the contour of the elbow and use the chart available at the purchase point to find the size that corresponds with the measurement you have taken.
Different sizes are available from XS-XL, and if you're in doubt between two sizes, select the smaller size.
Sizes L and XL come with an extra band to use in case the length of the strap around the back of your dog is too short.
It is very important to get the correct size. Also bear in mind that all elbow braces are used to protect joints and not to restrict movement.
Nature Pet Dog Elbow Protector
This elbow protector is an ideal solution for your dog's hygroma, after surgery brace, ligament Injuries and arthritis concerns.
It offers optimal protection by treating callosity problems and other problems at the elbow or shoulder area of your dog. Additionally, it also reliably prevents a permanent leakage from the affected area.
When your dog appears to be troubled by its elbow joints, the most common symptom is stiffness therefore on the insides of this elbow protector, there's a pocket for warming or cooling cushions or gel pads on the side where the elbow is expected to be.
These elbow pads are quite expensive as one goes for $81.90 on Amazon.
But according to reviews from dog parents, this product has been super-effective in doing what it says it does.
When it comes to the features, the fitting of the elbow protection is guaranteed.
All you have to do is, place a bandage around the elbow area, close the velcro strap along the back, and your pooch is good to go.
The elastic chest strap can be used when there's a possibility of the bandage slipping back.
Nature pet dog elbow protector comes in sizes ranging from XS-XL.
Some Important Points to note if your Dog has an Hygroma
Please understand that elbow pads do not entirely cure hygromas because hygromas can reappear at different stages in your dog's lifetime.
The best way to prevent this from being a recurring concern is to provide soft paddings at different areas in your home where your pooch loves to relax.
What to do if the Hygroma becomes Infected
Also, hygromas may become severely inflamed if left for a prolonged period. This may lead to additional symptoms that are more severe such as:
Abscesses
Fistulas
Granulomas
Infection
Tissue Erosion
Ulceration
If your dog's hygroma is infected, it will be painful and warm to the touch, and you will need to seek veterinary assistance which may include surgery.
It may also help to use a topical hot spot cream that helps to soothe pain and inflammation. This is especially important if the area is becoming irritated. This will soothe your dog and hopefully shift their attention away from the area. You can contact your vet for this and also get the prescribed ointments online or from your local pet store.
In cases of no further complications, except for an enlarged hygroma which is rare, your vet may suggest drainage.
If drainage or surgery happens, it's very important to care for the wounded area. It is important to keep it as clean as possible to prevent any kind of infection.
You can purchase post-surgery wound care that enables new tissue growth and promotes quick healing. This should be non-irritating and shouldn't contain alcohol of any kind. This is so that it doesn't sting your pooch when it is applied. You may also want to wrap the dog's wound to prevent further irritation after drainage or surgery.
Simply, get a lightweight wrap like any of the elbow braces discussed in this article. This helps to accommodate casts and bandages while still allowing for a standard range of movement.
This wrap will prevent your pooch from biting, scratching, or pulling at the affected area.